One-hundred-year-old Frank Heyl shared tales of 40 years of service
John Ley for Clark County Today
Friday evening (Nov. 10), the Clark County Republican Women (CCRW) held a Salute to Veterans event at the Battle Ground Community Center. Over 150 people attended the event which featured presentations about the Oregon Guard and national security. But the overwhelming hero of the evening was 100-year-old retired Lieutenant Colonel Frank Heyl.
Heyl enlisted in the Army in 1943 hoping to fly in the Navy like an uncle had. After failing to pass the Navy physical, he tried the Army because "they'll take anything!" He served in both the Army Air Corps and the Air Force, with duty in three wars. Heyl flew B-25's in WWII and also served in Korea, and Vietnam. He finished his 40 years of service with the Oregon Guard, both in uniform and as a civilian.
Heyl brought the house down answering the question, "what was the favorite place you served and why?" "My wife!" he exclaimed, to a huge round of applause.
He became a combat survival instructor and traveled around the country instructing pilots how to stay alive if they were shot down or had to bail out. He's written a couple books on the topic, but also spent years helping the Portland Guard rescue average citizens around the Pacific Northwest, especially on Mt. Hood.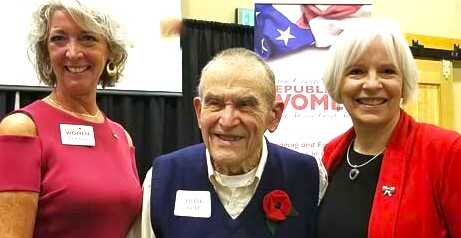 Tricia Davis and Liz Cline proudly stand with retired LTC Frank Heyl. He served 30 years on active duty, flying in WW II, Korea, and Vietnam. Heyl was the highlight of the Clark County Republican Women's Salute to Veterans event Friday evening.