One-hundred-year-old Frank Heyl shared tales of 40 years of service
John Ley for Clark County Today
Friday evening (Nov. 10), the Clark County Republican Women (CCRW) held a Salute to Veterans event at the Battle Ground Community Center. Over 150 people attended the event which featured presentations about the Oregon Guard and national security. But the overwhelming hero of the evening was 100-year-old retired Lieutenant Colonel Frank Heyl.
Heyl enlisted in the Army in 1943 hoping to fly in the Navy like an uncle had. After failing to pass the Navy physical, he tried the Army because "they'll take anything!" He served in both the Army Air Corps and the Air Force, with duty in three wars. Heyl flew B-25's in WWII and also served in Korea, and Vietnam. He finished his 40 years of service with the Oregon Guard, both in uniform and as a civilian.
Heyl brought the house down answering the question, "what was the favorite place you served and why?" "My wife!" he exclaimed, to a huge round of applause.
He became a combat survival instructor and traveled around the country instructing pilots how to stay alive if they were shot down or had to bail out. He's written a couple books on the topic, but also spent years helping the Portland Guard rescue average citizens around the Pacific Northwest, especially on Mt. Hood.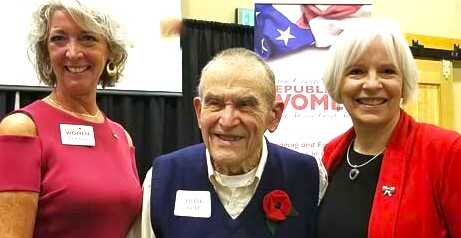 Tricia Davis and Liz Cline proudly stand with retired LTC Frank Heyl. He served 30 years on active duty, flying in WW II, Korea, and Vietnam. Heyl was the highlight of the Clark County Republican Women's Salute to Veterans event Friday evening.
"How many know the difference between a fairy tale and a war story," Heyl asked. "A fairy tale begins with once upon a time. A war story starts with you ain't gonna believe this," Heyl answered to huge laughter and applause from the crowd.
The assembled guests included 33 men and women who had served in the military. The meeting began with Heyl leading the Pledge of Allegiance, and a Young Marines Honor Guard. They were also treated to an Acapella medley of the Armed Forces service songs by the group Vocalocity.
Retired Brigadier General Donna Prigmore spoke about the multiple roles the Oregon and Washington National Guard play in serving our local communities and the nation. Their members have been deployed overseas in support of recent combat operations. But their biggest impacts have been serving their local communities.
She shared the herculean efforts of the Guard following the 2014 Oso landslide in Washington. Local guard members also helped following the eruption of Mt. St. Helens, pandemic relief in 2020, and the riots in Seattle in the summer of 2020.
Young people are not joining our military as they have in the past, Prigmore noted. She recently encountered a very bright young man in great physical shape working at a local coffee shop. She asked if he had ever considered joining the military. "No", he said. "Why?" she asked. "I don't know what we're fighting for," he responded.
Colonel Jeff Yeates is an Operations Group Commander with the Oregon Guard, flying F-15's when he can get away from his desk job. He's a Delta Air Lines Captain when he's not serving the Oregon Guard.
Yeates shared tales of serving overseas during recent conflicts, highlighting 104 aerial victories for the F-15C. He also emphasized their role in protecting the Pacific Northwest airspace. The 123rd Fighter Squadron has two jets ready to go at a moment's notice.
"The national guard maintains 40 percent of the nation's air combat capability," Yeates said. The Portland guard will be getting the new F-15EX model, "which is modernized to be the highest level of any fighter in the world," he said. They expect to begin receiving the new planes next summer.
He shared photos of them intercepting Russian Bear Bombers, and most recently, intercepting the Chinese balloons that entered U.S. airspace. They also were launched to intercept and report on the stolen Horizon Q-400 that ultimately crashed on an uninhabited Puget Sound island.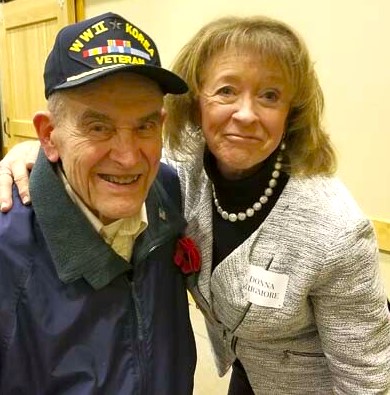 Retired LTC Frank Heyl and Retired Brigadier General Donna Prigmore were two of the four guest speakers at the Clark County Republican Women's Salute to Veterans event. Prigmore served as Commander of the Oregon Guard prior to retiring.
Retired Chief Warrant Officer Joe Kent shared his perspective on our national security. He led off highlighting our unprotected southern border and the fact that over 108,000 Americans have died due to fentanyl overdoses. "Washington state is leading the nation in fentanyl deaths," he shared.
Kent contrasted the huge response to 9/11 where American men and women have been fighting overseas in response to the deaths of almost 3,000 Americans, and zero effort to secure the southern border. "We have the national security establishment in Washington, DC telling us that our vital national security interest is not the southern border," Kent said. They direct our focus overseas, to eastern Europe with the Russian speaking border with Ukraine, or in the middle east.
Kent spoke about the fact that there is no money to be made securing our southern border, and that's why there is focus on overseas wars. Those who make the bullets and tanks and planes and military supplies are often tasked by the top leadership in our nation with supplying both sides of the war effort.
"We were lied to by both Republicans and Democrats over the past 20 years, where we attempted to build democracies in the middle east," said Kent, who spent 11 combat tours fighting these wars. "These cultures were not ready or didn't want to become a democracy. Our country is $9 trillion in debt from wars in Iraq and Afghanistan."
Kent noted our enemies have been flooding across the wide open southern border and that should be our primary security concern. He wants the U.S. to stop being the world's policeman and paying for the security of everyone else.
Kent highlighted the Abraham Accords and the relative peace that the Trump initiative delivered to the Middle East. Multiple sunni Arab nations combined with Israel to counter a variety of threats brought by Iran to destabilize peace and security in the region. Kent also emphasized the importance energy independence played in increasing American security while defunding Putin and Iran.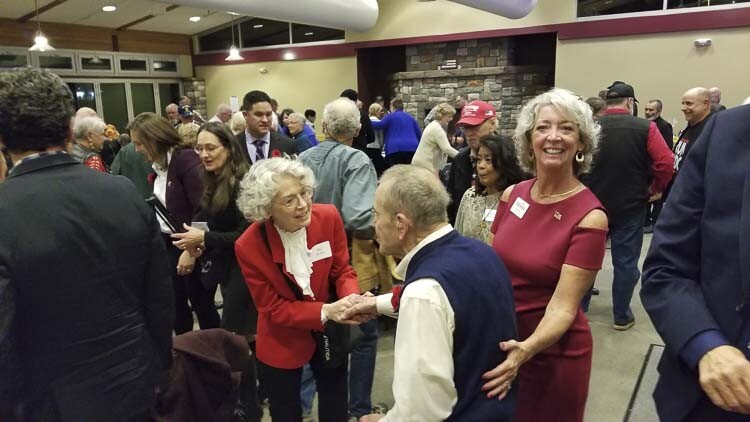 Jill Ross chats with Frank Heyl following the Clark County Republican Women Salute to Veterans event. Over 150 people had signed up to attend the Nov. 10th event at the Battle Ground Community Center. There were 33 veterans in attendance.
The evening ended with LTC Heyl sharing a few more tales of his serving our nation. His wife Alice (now deceased) loved their three years being stationed in Japan. When the military brass told him it was time to retire, he said he wanted to continue serving. They sent him home for 30 days and told him to show back up in civilian clothes and to change his name tag on his desk from LTC Heyl to Mr. Frank Heyl. When they promised a 10 percent raise, he said "yes" and continued to serve.
Heyl was asked what his secret was to his longevity. "Eat your veggies, get lots of exercise, and sleep 8 hours," he said. The centenarian tries to walk between 5,000 and 10,000 steps a day.
When this reporter dropped Colonel Heyl off at his Tigard home after the event, I thanked him for the wonderful evening. "Let's do this again next year" he exclaimed.